Not all wounds bleed nor all who smile are happy.
Online psychological counselling is fast grasping our lives since we do not know how far it is possible for someone to heal the emotional wounds without complete professional guidance. The healing power of psychological guidance is immense and you are sure to benefit from it. Let us take a look at what the psychologist does in a session of psychological therapy in Kolkata and every other city.
Healing from within is now made possible with online psychotherapy
Opting for therapy or counselling will be of equal value so there is no need to worry about the quality of either option. On feeling broken, defeated, shattered, tormented and suicidal, try to keep calm and enroll for the best psychological help sessions.
The therapist provides a comfort zone to you and makes you pour your heart out. The assessment starts and soon the psychological diagnosis will also commence. When attending the sessions, push away all your negative and distorted thoughts aside and heal your mind and soul from the core.
Always believe that I can and I will. Align your emotions, thoughts and feelings by attending the regular sessions of professional psychotherapy.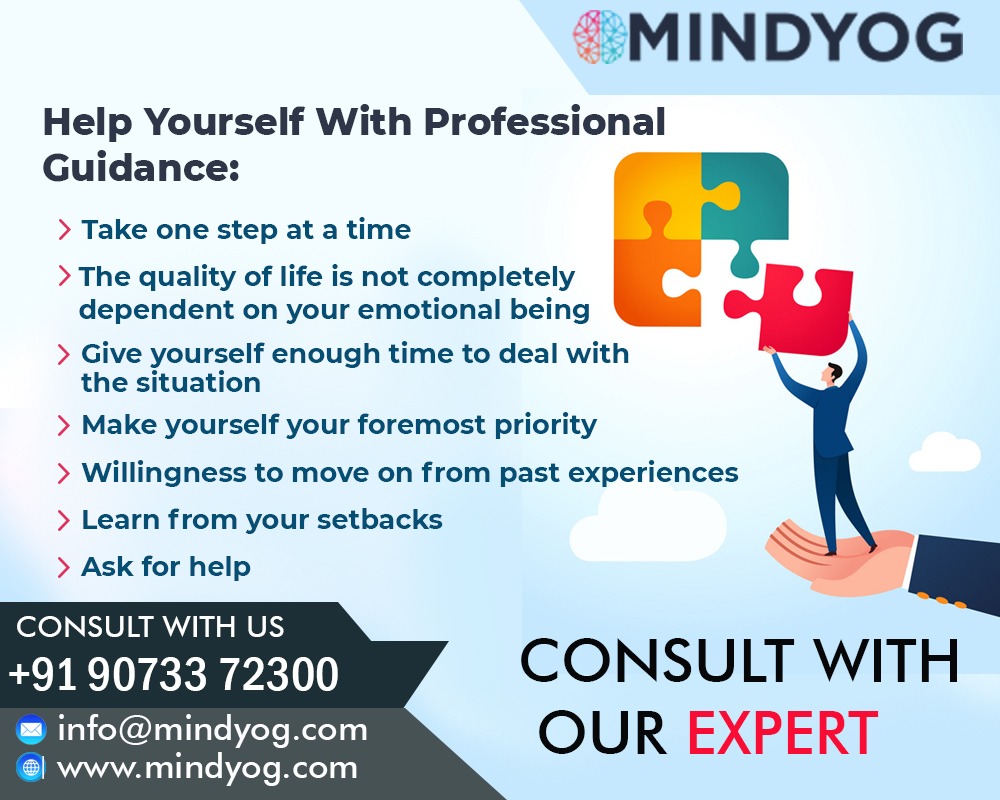 Help yourself with professional guidance
All that you have to do is follow the advice of your counsellor and keep the passion to heal yourself internally. Besides attending an online psychological counselling session, these exercises will help you greatly.
Take one step at a time: Trying to change everything at one go is not possible to take up one issue at a time. If you are expecting that the best psychological counselling in Kolkata will also make quick changes in your emotional construct, then you really need to get real. It will take time and you must go ahead with creating feelings of happiness, success, encouragement, hopes, etc.
The quality of life is not completely dependent on your emotional being: Your emotional side is one part of your individuality. So many other aspects make up 'you'. Therefore, do not feel that going emotionally downhill will turn your life upside down. Yes, things will be very difficult but at the same time concentrate on self-esteem, hobbies, people who love you and anything else that matters. The psychological counselling and therapy in Kolkata would even advise you the same.
Give yourself enough time to deal with the situation: Healing internally is time-consuming and you have to be patient enough to heal the damages done to your soul and mind. The online psychological counselling session will keep you grounded with the talk sessions and certain activities.
Make yourself your foremost priority: Self-esteem, self-respect and individuality should be your priority. Over time people get battered and the wounds never heal. They bleed continuously till you are determined to treat yourself better. Do away with whatever or whoever is not worth keeping. The therapist at the psychological counselling and therapy in Kolkata will guide you in this matter.
Willingness to move on from past experiences: The baggage of the past is dangerous! There is no way but to look forward to the future and make better plans for a healthier living. You can avail of the online psychological counselling therapy so that you learn how to deal with the past and let it not affect your present or future.
Learn from your setbacks: Do not sink! The aim is to fall and get back on your feet again. Take all those defeats, betrayals, failures and the likes as learning lessons. This will guard you against further harm and you will be in a much better position to enhance self-love and take good care of yourself. The best psychological counselling in Kolkata will give you the benefit to learn about ways to engage yourself in something fruitful that will impact you positively.
Ask for help: Shying away from the problem will only thrust you into deeper pits. So the online psychological counselling and psychological counselling and therapy in Kolkata are both going to give you the required support.
Online psychological counselling is the need of the hour since there are so many people who are shouting silently for help but have no means to venture outdoors to the counselling centres. For them, this opportunity is a blessing and if you are one of them or happen to know someone who needs help, then do not hesitate to recommend the best psychological counselling in Kolkata.
MindYog is your one-stop destination for all the help and assistance in psychological counselling and therapy in Kolkata that you would need. After having dealt with so many patients we have concluded that every individual, whether a child or an adult, goes through some amount of emotional turmoil. The sad part is that they do not know how to overcome it. So, we have vowed to make our impactful contributions to their lives with our both offline and online psychological counselling sessions. You can trust our mentors with all your concerns because all the information is kept as top secret.
Mindyog
Address: Signet Tower, 9th Floor, DN-2, DN Block, Sector V, Bidhannagar, Kolkata, West Bengal 700091