The surge in the awareness of a sound mind has been surfacing in recent times. With so many depressing events going on all around us, every individual is in the dire need of consulting a mental health counsellor online. Brush aside the social stigmas related to consulting a psychologist because after all, you need to do what is uncompromisingly the best for you.
If you are an adult and can take your call then you should make an appointment with a counsellor to stop yourself from bearing the brunt of the mental setbacks. As you proceed with this blog you will learn about the situations that are the initial symptoms of a disturbed mind.
Also, you will see that who are the different types of counsellors ready to help you out. Besides, you will gain the confidence to help yourself or extend a helping hand to someone who is in serious need of talking to a psychological counsellor.
Reasons to consult a counsellor
Constant mood swings, loss of appetite and sleeplessness
Lack of interest in things that you love
Hallucinating events
Muttered talks and undistinguished responses
Failing to recognise people, things and places that are extremely common or familiar
Changes in behaviour and seclusion from social gatherings
These can be held only as a few early symptoms of mental disorders like bipolar, dementia, Alzheimer's, schizophrenia, etc. Taking professional help and guidance in time and following up with the regular sittings are extremely instrumental for patients. The importance of a sound mind has become crucial and thus, as pragmatic beings, we must also learn to accept the patients and not make them feel isolated. Isolating them is detrimental for them and also for the ones around them.
Keeping this in mind, the patient can be taken to a counselling centre or advised mental health counselling online where he/she will be directed towards the right professional. It can be anyone from the list given below.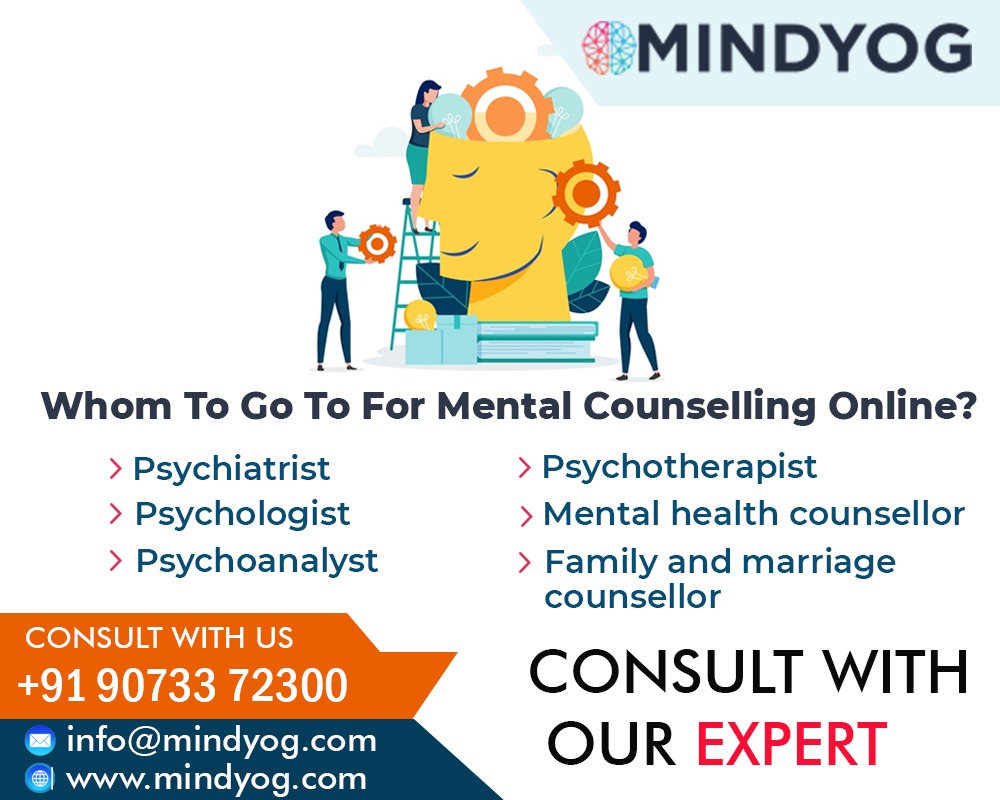 Whom to go to for mental counselling online?
Psychiatrist
On experiencing problems related to mental, emotional and behavioural disorders, you need to consult a psychiatrist. A professional psychiatrist has the authority to diagnose a problem after conducting physical exams and lab tests on the patients.
The psychiatrist can also prescribe medicines if needed. Psychologically speaking, a psychiatrist is a doctor who would possess a medicine degree (MD) or an osteopathic medicine degree (DO). A psychiatrist specialises in dealing with children and adolescents, learning disabilities and forensic psychiatry.
The moment we think of a psychologist, we can sketch a picture of a person sitting in a comfortable chair in a posh room. Well, that is the picture shown to us on the silver and small screens. To break the myth, a psychologist does more than that and much more than talking.
They specialise in the study and science concerning behaviours, thoughts and emotions of the humans. A psychologist treats issues like mental illness, relationship issues, etc. through counselling. They are usually employed in offices, hospitals and educational institutions where the need for a psychologist has been on a steep rise. The professional will hold a doctoral degree but does not have the license to prescribe medicines to the patients.
The name of Sigmund Freud is known to all and his ardent followers would be called psychoanalysts. Psychoanalysts follow the theories of Freud to the core and help a person to release the repressed feelings, impulses, anxieties and internal conflicts. A psychoanalyst is likely to conduct a dream interpretation, analyse the person's resistance power, etc. to conclude the problem that he/she is suffering from.
Psychoanalysis explores deep psychological and emotional issues that become complicated over the years without any proper diagnoses. Thus, the professional helps in dealing with deep-seated issues that are the root causes of several physical manifestations.
This is a general term given to many who professionally deal with patients with psychological issues. Psychologists, therapists and others all belong under this umbrella term. However, a psychotherapist provides psychotherapy which is the age-old method of 'talking and healing' the patient. The outcomes of such therapies are improved mental state and general well being.
A psychotherapist also takes resort to therapeutic conversations, expressive therapy, group therapy, etc. to deal with the internal conflicts of the patient. The most effective therapy is CBT or Cognitive Behavioural Therapy. It is extremely effective for children as well as adults to improve bad behaviours, misaligned emotions and thought patterns.
The mental health counsellor can be a 'licensed' or a 'professional' one and essentially provides counselling to anyone on anything. So, when you are about to consult a mental health counsellor check the person's experience, educational degrees and the issues that he/she deals in. These might be dealing with job loss, addiction, marital problems, relationship issues, phobias, stress, anxiety and many more.
Family and marriage counsellor
Marriage and family are both social institutions that most individuals are a part of. There is no denial to the fact that both are based on values and ethics. Therefore, when a breach in either or both these institutions occur the individual, closely associated with them, is hugely affected. This is exactly when the family and marriage counsellor plays a pivotal role.
The sessions are brief and focused on the main issues, and are solved faster than compared to other problems. Most patients prefer individual sessions since they want to maintain their privacy. The counsellor usually takes to group counselling only when the issues affect the near and dear ones of the patient.
The ones making psychiatric counselling online easier and convenient are these professionals. With the required degrees in their desired fields, they have been saving the lives of many. So, whenever in doubt about getting the best mental healthcare, just get in touch with the nearest counselling centre.
Why should a counsellor be consulted?
With proper diagnosis and counselling the patient stands strong chances of recovering completely or healing majorly.
The counsellor makes sure to follow up with the patient to have a better understanding of the case history.
Since the professional counselling sessions are conducted by professionals who happen to be the best in their spheres, there is no doubt about their effectiveness.
You get all the documents of your sessions and it makes a better understanding of your progress.
The sessions have become a way of life for many people who have been suffering quietly within. The patient has to overcome the fear of feeling secluded since it will only plunge the person into deeper depressions. As a near and dear one, you should be supportive and boost the spirit of the patient. Also, encourage the person to take the mental illness counselling online sessions seriously.
A sound and balanced mind is one of the ultimate needs of every adult or child. At MindYog, we strongly believe in curing your anxiety and giving you a meaning to live your life to the fullest. We guarantee you that with our counsellors and counselling sessions, you are bound to overcome all your emotional turmoil and upheavals. Consult the top psychologist in Kolkata and that too at our centre to get the best and effective results.
Mindyog
Address: Signet Tower, 9th Floor, DN-2, DN Block, Sector V, Bidhannagar, Kolkata, West Bengal 700091
Phone: 090733 72300