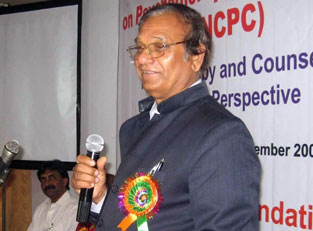 Prof. Dr. S. S. Nathawat
Prof. Dr. S. S. Nathawat had been teaching Psychology and also involved in higher level research over three decades in India. He have taught at several Universities including Jodhpur University, King George's Medical College, Lucknow, Kurukshetra University and University of Rajasthan, Jaipur. He was the senior most Professor and Head, Dept. of Psychology, University of Rajasthan, Jaipur. Later he have also been offered as Visiting Professor in year 2008 by UGC at Punjab University where he served for a short period and their after, the Major Project by UGC entitled "Positive Psychological Capital in Relation to Psychological Well-being in Senior School Students" was sanctioned to him.
Currently, he is the Professor & Director in Amity Institute of Behavioural & Allied Sciences, Amity University Rajasthan, Jaipur w.e.f. November 19,2009 and still continuing.
Prof. Dr. S.S. Nathawat had edited prestigious Indian Journal of Clinical Psychology (IJCP) over 6 years (from 1996 to 2002). The IJCP is an official publication of Indian Association of Clinical Psychologists, which is in circulation for over 30 years.
Professionally trained as a Clinical Psychologist from the NIMHANS, Bangalore (1969), he has published over 100 research papers in National and International Journals including the research paper "Suicidal Behaviour and Attitudes towards Suicide among Students in India and Netherlands: A cross-cultural comparison". In R.F.W. Diekstra, et al. (Eds.).Advances in Suicidology, a prestigious publication of World Health Organization (WHO), 1989.
Prof. Dr. S. S. Nathawat supervised over fifty Ph.Ds and has been attending National and International conference. XXIII INTERNATIONAL CONGRESS OF PSYCHOLOGY at Acapulco Mexico honoured Dr. S. S. Nathawat of officiating Chairperson of the scientific sessions of the professional conferences in our country for his active participation in presenting research papers.
He is life member of several professional organizations including Indian Science Congress, Indian Association of Clinical Psychologists, and Indian Association of Psychologists. He is also a member of Mental Health Authority, Government of Rajasthan. Dr. S. S. Nathawat held the honor of being the Honorary General Secretary of Indian Association of Clinical Psychologists (IACP) and Past President of IACP.