What is meditation?
Meditation has been long rooted in the veins of those who believe in aligning the mind, body and soul with an interior power. The secret benefits of meditation have been known to the ascetics over the centuries until it was passed down to the laymen through generations. The practice of meditation, as you would know, is sitting in an upright position with closed eyes and focusing on an internal point with increasing attention.
Modern counselling psychology and its practices prescribe meditation to kids and adults alike. Not only because it enhances their level of concentration but also for innumerable advantages that you are going to learn about over here.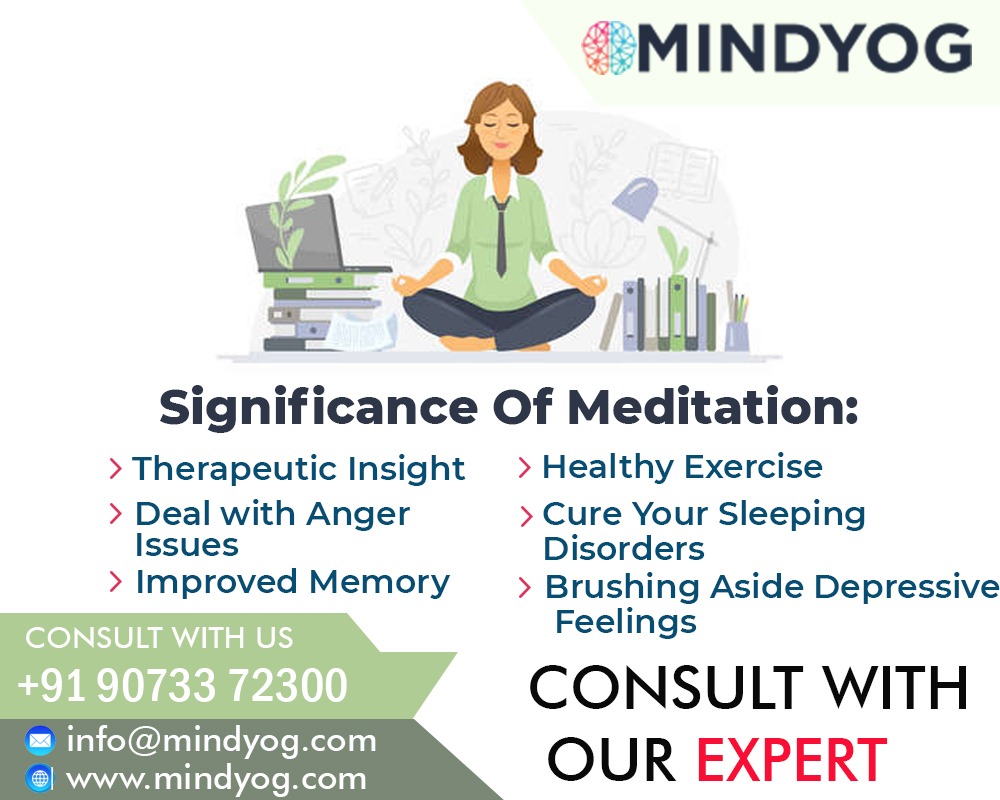 Significance of meditation
Therapeutic insight: Meditation is a kind of therapy that uses a mantra, music or a word that helps to maintain the focus. It erases the external stimuli from one's awareness making the person mentally relaxed. The top psychiatrist counselling online sessions are often based on meditation and doing it regularly will help you to deal with your life situations much better.
Deal with anger issues: The best psychiatric counselling in Kolkata is of the opinion that their recommended meditation sessions are great for curing anger management issues. When a person with anger issues meditates, he/she is likely to calm down with each session. It also soothes the nerves and creates a balance in the mind. Besides, meditation also helps the person to figure out the root causes of being unable to control the anger and that itself is a great way to deal with the issues.
Cure your sleeping disorders: You must be knowing that sleeping disorders are the result of anxiety and stress issues. So, when a person with extreme anxiety, fatigue or stress begins to meditate regularly, he/she learns to be more patient. Thus, it gradually helps the person to be less stressed out and enhances the abilities to deal with persistent issues. As the mind also begins to relax and calm down with meditation, it inevitably improves the sleeping patterns and eases out sleeping disorders. If the psychologist counselling sessions are attended as well, then the final outcome is really rewarding with honing better stress management skills.
Improved memory: Patients suffering from mental illness tend to lose out on their active memory. What they remember are only fragments of their past and besides that, there is no clear or concrete memory. Psychiatric healing prescribes meditation to such patients to help them concentrate and bring back their past memories. Most of the time their memory improves slowly and they regain their recalling or memorising powers better than ever. Moreover, fading memory becomes detrimental to their psychology but meditation has shown promising results in this aspect.
Brushing aside depressive feelings: Since meditation happens to improve one's level of stress and helps to nurture positive feelings, it eventually does away with depressive thoughts and feelings. Once you begin to get those good vibes about yourself and your surrounding you start to learn how to deal with depression and a negative mindset.
Healthy exercise: The ancient Ayurvedic treatment has been using meditation to heal people's souls and minds. The same technique is used by modern psychology to ease out mental illness. Meditation is closely accompanied by breathing exercises that cure breathing problems, blood pressure levels, anxiety and other health concerns. These health issues have been noted over the years as serious reasons for depression in uncountable people. However, psychiatrist counselling online sessions do believe that both meditation and breathing exercises help patients to feel much better when they are stressed out and worried about their health.
Thus, taking resort to the best psychiatric counselling in Kolkata you will be entitled to all the abovementioned benefits. Moreover, you can convey the message to your near and dear ones to help them deal with their internal and external issues as well as conflicts. The world of meditation is vast and it still remains to be explored at large by many of you. So, join this path of serenity where the boundary of benefits is immense and unmeasured.
MindYog brings to you the best psychological counsellor in Kolkata. Get the best professional support with our guided online and face-to-face sessions. There is no need to worry about the fees since we have kept them nominal. Besides, we value your mental well being more than anything else. Contact us today!
Mindyog
Address: Signet Tower, 9th Floor, DN-2, DN Block, Sector V, Bidhannagar, Kolkata, West Bengal 700091
Phone: 090733 72300